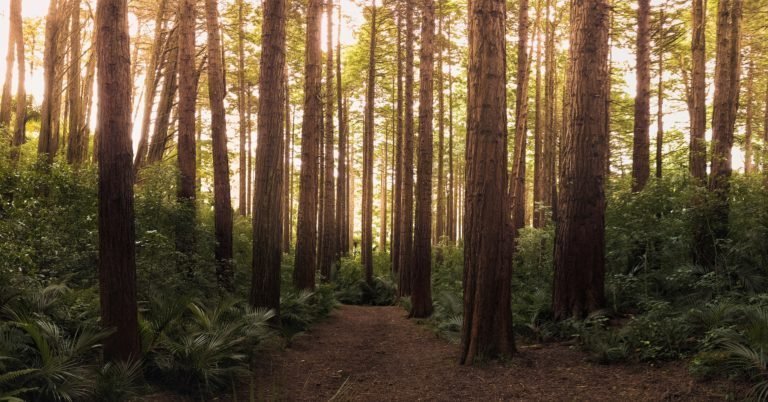 Image by Tyler Lastovich is licensed under the Pexels License
One of the best features of Gainesville is its abundance of lush and verdant landscapes. With all the beauty this city has to offer, it would be a shame not to visit the vast assortment of nature parks and preserves. So, lace up your boots and grab a water bottle -- it's time to explore the best of Gainesville's hiking trails.
1. Sweetwater Preserve
Located on 309 SE 16th Ave, just behind the historic Evergreen Cemetery and Pine Grove Cemetery, Sweetwater Preserve is a woodland park with wetlands, wildlife, and three miles of unpaved walking trails. It's also right near the historic Bouleware Springs Waterworks, which is where you can find parking for the trail. The trail is a balloon loop, so it's pretty easy to follow. You can definitely take your dog for a walk here or go for a jog, but bicycles are not recommended (there are bike racks at the trailhead). The trail starts between the kiosk and bike rack, starting off in a sandhill habitat with lots of live oaks. As you keep right, you'll enter a more mossy territory where you'll begin to stroll through a hardwood hammock, surrounded by shrubs and cool fungi. In the springtime, you can see the famous paw-paw plants in bloom.
After about a mile, you'll come up on Sweetwater Branch, where there is a sign for the creek. There are some benches you can sit at to behold the beauty of the water, but don't get too close -- there's lots of gators in there! As you make your way up, you'll see the fence line that separates the trail from Paynes Prairie. There is a small pond nearby that you can see as you move along the slope of a sinkhole. You'll be completely immersed in this green environment, as the trees tower over you and the moss hangs from their branches. Keep in mind that Sweetwater Preserve is not the same as Sweetwater Wetlands Park, which is located nearby. Sweetwater Wetlands is a great place to view wildlife as you walk along boardwalk nature trails and watch all of the birds. Sweetwater Wetlands does not allow pets, however, and does not have very much shade.
2. Loblolly Woods Nature Park
Located on the 159 acres of Gainesville's Hogtown Creek Greenway, Loblolly is a breathtaking park with colorful wildflowers carpeting the forest floor and tall Loblolly Pine Trees, which are some of the biggest in the country. This park is super close to campus -- you can find it right behind the famous Solar Walk. The trail offers a broad bicycle path alongside the narrow side trails of the park. As you leave the parking area, you come upon the old environmental center and a picnic bench area. Turn right, and advance along the trail.
You'll approach a sinkhole in a dense bluff forest. There are lots of fallen tree trunks along the trail, covered in beautiful, funky fungi. The forest is pretty urban, allowing you to see the residential areas that surround it through the trees. Eventually, you'll get to the creek, which has a huge fallen tree trunk lying across it. If you listen closely, you can hear the creek's small rapids hitting the rocks below the water's flow. This trail has a lot of shade, with the help of the Loblolly Pines and Southern Magnolia. You'll have to stretch your neck to see the top of the canopy. Make sure to keep your eye out for wildlife and breathe in the fresh, fragrant air.
3. Paynes Prairie Preserve State Park
Truly a treasure of Gainesville, Paynes Prairie is 21,000 acres in size and home to alligators, wild horses, and buffalo. It also features some of the state's largest and northernmost grasslands and has one of the most distinct reptile and amphibian populations. The park's main entrance offers a scenic drive through jungle-like floodplain forests that go to the visitor center and museum. There are a few trails you can explores in this enormous, stunning park.
The short Wachoota Trail lets you have a bird's-eye view of the prairie from the top of an observation tower. La Chua Trail, near Bouleware Springs, is a remarkable boardwalk trail that follows along a huge sinkhole. When it rains, the whole prairie turns into a huge lake and alligators can be seen hanging out everywhere. You can leave the boardwalk and hike out to the observatory tower or walk along the dike and watch the wildlife. Just make sure not to take any children off the boardwalk, as there is a very large alligator population. Dogs are not allowed in the park (even if they're on a leash) for this very reason.For other fun experiences in Paynes Prairie, consider the campgrounds or equestrian trails. It's also the perfect place to watch the sunset and get some impressive photos.
4. Morningside Nature Center
Since 1971, Morningside Nature Center has been coveted as one of Gainesville's most iconic nature parks. The park protects the largest stand of longleaf pine savanna remaining within city limits; with 268 acres of preserved land, Morningside offers a wide variety of paths, ranging from half a mile to six miles. You'll start your hike at the information kiosk west of the parking area. As you continue to walk west, on the paved path to the environmental education center, you'll see a map where the trail system is posted.
There is an extensive network of trails at Morningside, so plan your trip accordingly. There are lots of shaded trails with big cypress trees, boggy environments, a boardwalk path, and countless wildflowers covering the forest floor. This path allows you to behold the markedly diverse landscape of Florida's natural habitats. From flatlands to sandhills, from blueberry bushes to huge pines, Morningside Nature Center has it all. In addition to the manifold selection of trails, Morningside also features a free and fun "Living History Farm" that teaches you some history and has live animals you can pet.
5. San Felasco Hammock State Park
San Felasco boasts botanical and geological wonders to all of its visitors. There is an abundance of hiking trails, which are the source of this park's popularity. The off-road bicycle trails and the crisscrossing equestrian trails are also alluring characteristics. This park bears great historical significance for Florida, being the site of the San Francisco de Potano mission, one of the earliest to take place in the New World. If you don't have enough time to explore all of the hammocks in San Felasco, you can indulge in one of the short Moonshine Creek trails located in the park. No matter where you go inside San Felasco, you can be sure to see some spectacular wildlife with strange, karst landscapes and deep, luxuriant forests.
Gainesville has wonderfully rich and diverse natural landscapes that everyone has to explore. In order to truly take in the city's beauty, discovering its prolific wildlife is essential. Take a look at this page to learn about all of Gainesville's nature spots and plan your next hiking trip.