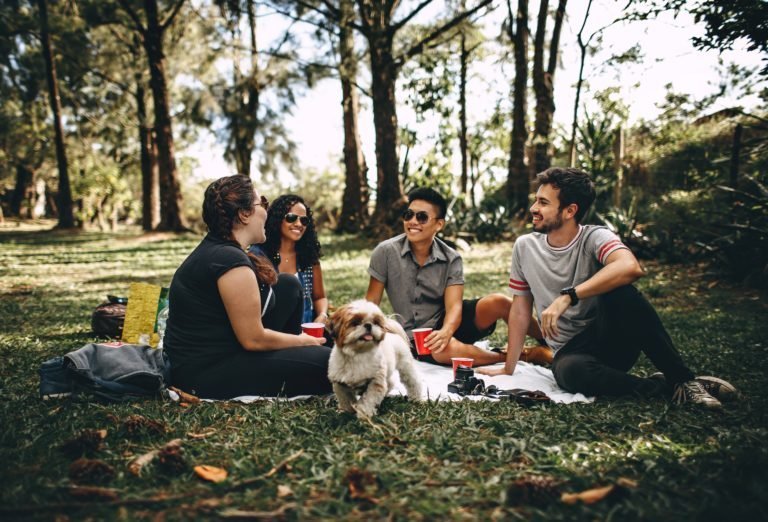 Image by Helena Lopes is licensed under the Pexels License
Having a cute, quaint picnic in an open, shady area is one of the most relaxing and romantic ways to spend an afternoon. When you want to dine al fresco and pair your meal with stunning views, here's where to go in Gainesville.
1. Evergreen Cemetery
Okay, this may seem a bit strange, but Evergreen Cemetery is truly one of Gainesville's most beautiful and intriguing locations. Founded in February of 1856, this 53+ acre cemetery is an iconic, culturally-enriched piece of Gainesville history. In fact, many of Gainesville's important historical figures are buried here, including the inventor of Gatorade and Florida's first female physician. "This Wondrous Place" (as it is affectionately referred to) also offers gorgeous scenery, with towering oak and cedar trees draped in Spanish moss and lovely bougainvillea bushes clustered everywhere.
The old and weathered tombstones transport you back in time and the environment is quiet and serene. You can explore the vast area for hours, and lay out your picnic blanket practically anywhere. The cemetery is also a hub for wildlife, and you'll often see families of deer scurrying amongst the tombs and flocks of colorful birds in the trees.
Once you've finished eating, consider packing up your picnic basket and taking a walk through Evergreen. There is actually a virtual phone tour that you can take by calling the number on any of the exhibition signs throughout the cemetery. You'll be able to learn all about the place's history and the legendary individuals who are buried there. If you're up for more of a hike, keep walking further into the cemetery -- eventually, you'll find Sweetwater Preserve and its amazing trails and landscape.
2. Depot Park
Located on SE Depot Ave, right by Rosa Parks Station, Depot Park is a large park with gorgeous views and a variety of fun features. There's a big playground with lots of slides, swings, and tunnels, along with an aquatic splash pad called the "Blue Grotto," inspired by the underwater caverns of Central Florida. It's fun for kids and adults alike, with waterfalls, ground jets, water cannons and hidden fossils.
Depot Park also offers many sights to see, as you stroll down the promenade or look out onto the wildlife conservation area. In addition, there is a large, grassy area in the park that is perfect to set up for a picnic. You can sit by the scenic pond and people-watch from afar. The park also has the convenience store, Pop-A-Top, on site, which will come in handy if you forgot to bring something to the picnic. Depot Park is a getaway in the heart of the city, and definitely worth visiting, no matter the occasion.
3. Kanapaha Park
Kanapaha Park (not to be confused with Kanapaha Botanical Gardens) is a big, open, and beautiful park located on Tower Road, just north of Archer. The wide, open, grassy space is shady, breezy and relaxing -- ideal for a chill, charming picnic, especially on a hot, summer day.
The park has a lot to offer, including basketball courts, a baseball field, roller hockey, beach volleyball, a playground, and tons of greenery. Kanapaha Park's ambience is calm and peaceful, and its grounds offer lovely backdrops for photographs. It's also dog-friendly, so feel free to bring your pup with you to the picnic. In addition, the park has a memorial monument dedicated to U.S. veterans and their sacrifices to the country. The park is quite large, so take time to explore and discover every bit of its beauty.
4. Boulware Springs Park
This trailhead park is one of the most alluring in Gainesville, with its abundant shade and tranquil atmosphere. There is parking on site, making it easy to get to the location and unload your picnic supplies. The park also provides lots of benches to sit at and pavilions to have nice get-togethers. Additionally, there charcoal grills and a good amount of picnic tables. There are even electrical outlets to plug in devices nearby.
A 19th Century waterworks building is also part of this scenic park, holding historical significance for the city. And, as you may be able to tell by the name of the park, there are also some small springs located along the trail. If you get there early, you may be able to catch a glimpse of small wildlife like deer and wild turkeys. The Gainesville-Hawthorne State Trail runs from Boulware Springs Waterworks, and is another awesome location for a quiet and relaxing picnic.
5. Morningside Nature Center
Since 1971, Morningside Nature Center has been coveted as one of Gainesville's most iconic nature parks. With 268 acres of preserved land, the park offers a wide variety of walking and hiking trails, ranging from half a mile to six miles. There are lots of shaded trails with big cypress trees, boggy environments, a boardwalk path, and countless wildflowers covering the forest floor. You can experience the park's diverse wildlife, as well, by looking out for animals like deer, wild turkey, box turtles, gopher tortoises, skunks, and numerous birds.
There's also a designated picnic area that is very spacious and serene, Not many people frequent the area, so you definitely won't be bothered. While you're at Morningside, be sure to visit the infamous "Living History Farm" that recreates a rural household from the 1870s. There are even live farm animals like pigs, sheep, chickens, and a friendly cow named Penny. Morningside goes on forever and there's a never-ending selection of awesome picnic spots.