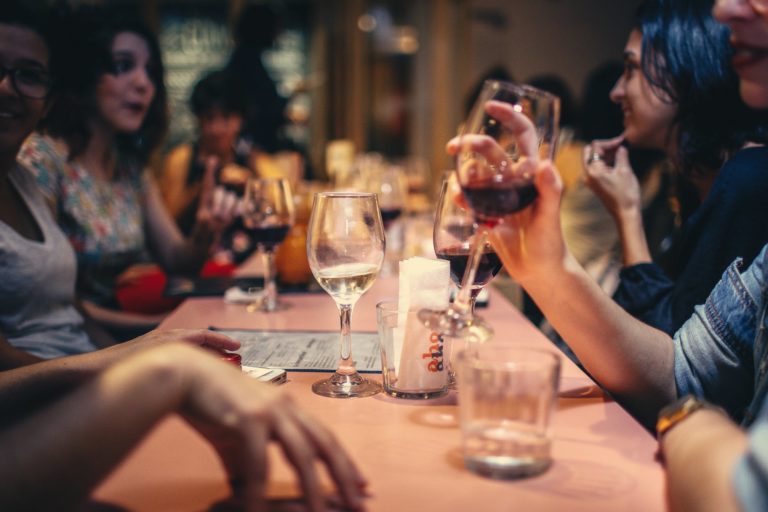 Image by Helena Lopes is licensed under CC BY-ND 2.0
Whether you're pre-gaming for the club or unwinding after work, Gainesville's bars and restaurants will always be there for happy hour. If you're looking for good booze on a budget, here's where to go.
Salty Dog Saloon
Smack dab in the heart of Midtown, Salty Dog Saloon features a happy hour that runs from 4-7PM every night of the week and all day on Sundays. The bar offers an extensive selection of beers from all over the world and some traditional dive food.
Salty Dog's happy hour also applies to food, with all food items sold at ½ price. (On Tuesdays, pizza and sandwiches are ½ off all night long.) You can expect to see lots of pizza and sandwiches on the menu, along with chicken wings, French fries, mac & cheese, and more.
The Swamp Restaurant
The Swamp Restaurant has been pouring drinks for Gator fans since 1994. It was even ranked the No. 8 college sports bar in the United States by Sports Illustrated. The Swamp has happy hour drink specials from 4-7PM every day, so no matter when you need a drink, this iconic restaurant has got you covered.
There are also a few other drink specials offered every week, like Monday Buckets (five 16oz Pabst Blue Ribbon cans for $5 from 8-11 PM), Wine Wednesdays ($2.50 a glass from 8-11 PM), and Free Beer Fridays (unlimited Rolling Rock with student ID and $5 cover from 9-11 PM). Beyond the alcoholic beverages, The Swamp also has lots of appetizers, soups and salads, sandwiches and wraps, burgers, quesadillas, pasta, and side dishes, as well as delicious chicken, beef and seafood entrees.
Balls Bookstore
Another legendary dive bar is the Balls Bookstore right across from Ben Hill Griffin Stadium. As one of Gator Nation's oldest bars, the atmosphere at Balls is always lively and inviting. Happy hour is on Fridays from 6-8PM, and the bar also offers cheap "all you can drink" specials on varying nights. The graffiti-covered walls and big neon signs give this place that classic sports bar feel, perfect to spend the evening after an awesome Gators victory.
Grog House Bar & Grill
Grog is a Gator favorite in Midtown. It's the best spot to get a pitcher of beer and listen to some cool music after a hard day of class. Grog is a bar and restaurant, as well as a club. On the weekends, you can expect to see a line wrapping around the building, as everyone waits to get a little groggy…
Wednesdays, Fridays, and Saturdays are when you can score some sweet deals at Grog. Wednesday is "Ladies' Night," meaning ladies drink for free from 6PM-closing time, and guys can drink for free too until 11PM. Fridays feature "Beat the Clock," which begins at 9PM; all drinks start at $0 and go up $0.25 every 30 minutes, and pitchers start at $0.25 and go up $0.25 every 15 minutes. Grog also has "Free Beer Saturdays," meaning free drinks for everyone until 12:30AM. They also have drink specials on Saturdays, like $3 Fire Eater, $2 Kamikaze, $3 Liquid Marijuana, $2 Domestic Beers, and $5 Goose.
Palomino Pool Hall
Palomino is easily one of the most underrated bars in Gainesville, and also has one of the best ambiances. Take a trip back in time with old childhood games like air hockey, foosball, and more. Try your hand at billiards at one of the many pool tables while you sip on a cold, draft beer from the bar. To add to the fun, Palomino boasts some of the best drink specials in town too.
On Sundays, happy hour is all day long. Mondays, Wednesdays, and Thursdays have happy hour from 4-8PM. On Tuesdays, happy hour is the same, but you also get to play pool for free in the meantime. Fridays and Saturdays mean happy hour starts early, so enjoy drink specials from 2-8PM.
Chuy's
There's not much in the world that isn't better than a warm burrito and a chilled margarita. At Chuy's, dreams of palm trees and paradise come to life. Enjoy some of the best Mexican food in all of Gainesville during happy hour, Monday-Friday from 4-7PM when all margaritas reduced to $4.75.
Boca Fiesta
Similar to Chuy's, Boca Fiesta is another iconic Mexican restaurant with mouth-watering guacamole and queso and irresistible, refreshing beverages. Happy hour is from 4-7PM, Monday-Saturday, with Sundays featuring drink specials all day long.
The Top
This hip, chic bar in Downtown is a popular hangout spot for those who seek a casual, relaxing refreshment. Pair your drinks with any of the delicious food on the menu, including burgers, nachos, salads, and more. Choose from a wide array of signature cocktails and beers while you enjoy the bar's chill and cozy vibe.
The Top offers happy hour Monday-Friday from 5-7PM. Tuesdays feature "buy 1, get 1 free" liquor specials, Wednesdays have $2 Off Craft Beer & Craft Spirits, and Thursdays have well drinks for $2 and PBR Tall Boys for $1.50. On Fridays and Saturdays, you can get $2 off wine & signature drinks. And, of course, on Sundays, happy hour lasts all day long.