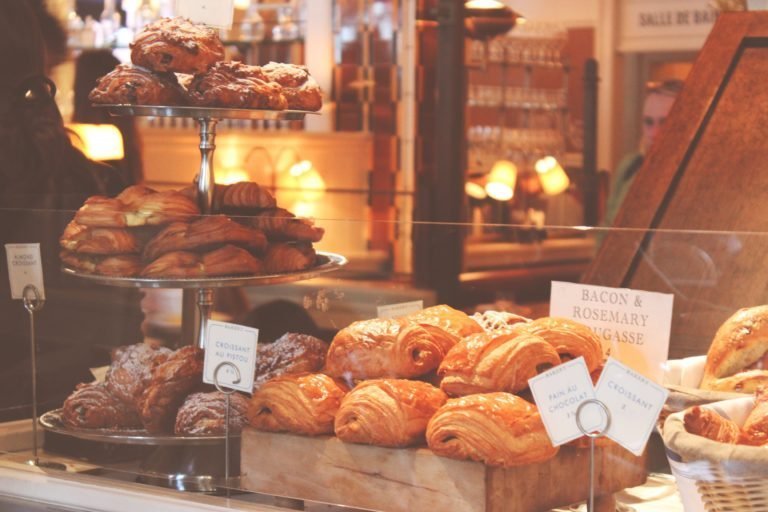 Image by Madison Inouye is licensed under the Pexels License
Whether you have a special event coming up or you're just looking to satisfy your sweet tooth, these bakeries in Gainesville will make your dessert dreams come true.
Uppercrust Productions
This is an intimate bakery with a warm, rustic interior that provides a cozy atmosphere for enjoying baked goods. The place features a gourmet market and cafe with outdoor seating that has been around for years and is even Zagat-rated. All of the bread and pastries are decadent and the majority of products are French. Keep in mind that prices are a bit high, especially for the imported items straight from France. However, you won't find many places around Gainesville that will give you that fabulous French flair. Choose from a variety of goods, from fresh baguettes to warm cookies to fruit tarts. There is also a wide variety of wines, each of which are specially chosen by management, and wine tastings that are held weekly. Don't be surprised if some of your favorite treats aren't stocked since lots of them go fast.
Address: 3506, 4116 NW 16th Blvd
Patticakes
Patticakes is a local business located in the village that's perfect for when you really want to treat yourself. The bakery/cafe is bright, airy, and sleek and provides a great ambience for relaxing, working, and studying. There's seating both inside and outside and pets are welcome too! You can enjoy lots of specially-crafted coffee drinks, like gourmet lattes (with foam art) and macchiatos, and some of the best cupcakes in the whole city. There is also a range of breakfast items like bagels, croissants, and scones to enjoy in the morning and an assortment of ice cream flavors for those hot, sunny days. So, whenever your sweet tooth is acting up, stop by Patticakes in Haile Plantation.
Address: 9124 SW 51st Rd
Dolce Vita Bakery Cafe
This small bakery, located on the outskirts of town, offers friendly service and delicious baked goods. The counter here is quite small and there are only a few tables and chairs, but it's colorful, quirky, and quaint. Aside from sweet treats like cinnamon rolls, cakes, eclairs, cupcakes, and croissants, Dolce Vita also has a high-end deli service for yummy sandwiches. In addition, there's a handful of Italian-inspired dishes like salads and pasta. The place is really a little "hole in the wall," but worth the drive for some tasty goodies.
Address: 4908 NW 34th Blvd #2
Bearkery and Dream Day Cakes
Specializing in custom and sculptural cakes, cupcakes, cookies, and truffles, Bearkery and Dream Day Cakes can make any day special and sweet. If you have an occasion coming up, like a wedding, birthday, anniversary, or graduation, this bakery will surely make the cake of your dreams. The bakers here have a great attention to detail and take their times perfectly designing each pastry -- they are true artists and can make any vision come to life. The bakers' talent and passion really show in the cakes' aesthetics and taste.
Address: 6510 NW 16 St
Sweet Buns
For a bit of an Asian twist, you can try the vibrant blend of flavors at Sweet Buns, located adjacent to the awesome Chinese restaurant Yummy House. Inside, the bakery is bright, open, and super cute with lots of different pastries and bread on display along with several seating options. There is a wonderful selection of buns and cakes, each with a blend of Asian and French flavors. The prices here are also unbeatable -- you can spend around 10 dollars and cover dessert for every meal of the day. It's a great place for breakfast or a quick, interesting snack -- no matter if you're looking for something sweet or savory. There are also some Asian beverages available, like bubble teas, to pair with your treats. Just make sure to come in early since the pastries sell out fast.
Address: 3102 SW 34th St
Flaco's Cuban Bakery
When you're looking for some of those Latin & Caribbean flavors, look no further than Flaco's in Downtown. This is a simple, no-frills Cuban bakery serving up sandwiches, arepas, "pastelitos" and some great coffee. The great part about Flaco's is that it's open late, so when you're feeling that midnight snack, you can be sure that this place will be open. The sandwiches are huge and the pastries, including meat, cheese, guava, and all your other Cuban favorites, are always prepared to perfection. You can also enjoy other plates of food like rice and beans and sweet plantains. The other side of the restaurant features some delicious Mexican options, with awesome tacos and burritos. Just beware the club-goers who flock to this place after a night on the town.
Address: 200 W University Ave